By now most of us are practicing the art of social distancing and along with a temporary new way of life also comes some new ways to go about managing your finances. If you are used to heading to your local financial institution to deposit a check or go to the water department to pay the bill, for the time being that might not be possible. What are you supposed to do? Follow these tips on how to easily manage your finances while social distancing in Florida.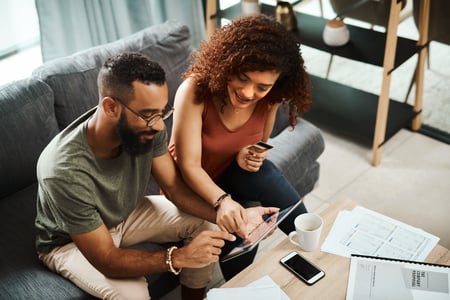 Get Familiar with E-Services
During this time, it's recommended to limit as many outings as possible. With e-services you have the ability to check your account balance, transfer funds, set up bill pay, apply for loans and make mobile deposits from anywhere, anytime. E-services include both online and mobile banking, so be sure to enroll in both options to ensure you have the most access to your accounts.
Automate Payments with Bill Pay
Have you had trouble keeping track of what day it is? One thing that could help alleviate missing any payments due to this is setting up automatic payments with bill pay. When you enroll in bill pay you will need a couple things to get started such as the date bills are due, what accounts you want them pulled from and the amount the bill will be (just in case you pay more than what is due).
Control Your Cards with CardValet
Florida is known to have a high amount of fraud, in fact, there have already been reports of scams surrounding coronavirus. It's likely that you'll still need to use your cards for essential purchases such as groceries, gas and co-pays on prescriptions. To control the limits on your card and even lock/unlock it only when your using it make sure you're using CardValet, by taking these extra steps you are helping to reduce your chance of fraud.
Pay off Debt or Save
During this time a lot of our extra purchases will either slow down or come to a pause. For example, if you have a gym membership most of those have been paused for the time being and if you frequently eat out chances are you're eating-in more. If you have the extra cash take this time to either put that money towards paying off a credit card or putting it in your savings account. Either way, use this as an opportunity to get ahead with your finances if you have the ability to.
Collect Rewards on Expenses
Chances are you have taken a few more trips to the grocery store than expected. Take this opportunity to earn money on those purchases by putting them on a high-earning rewards card. Once those purchases are made, transfer the funds so that debt doesn't accumulate. This is a really good strategy to earn some extra cash, especially during a time where you didn't expect the extra purchases.
Navigating social distancing has been a learning curve for most of us, however starting with these few tips can help get you in a position that you won't regret later. The other good thing about these tips is that starting them now, will help to turn them into healthy financial habits that hopefully will extend beyond just this period of social distancing.