Many have been impacted by natural disasters recently, TFCU has teamed up with the Red Cross and so can you, click here to help out.

TFCU Branch lobbies remain closed at this time. For all COVID related updates, please visit our awareness page.

Along with our own ATMs, you may use Presto, CO-OP Network and Exchange NoSur! ATMs, surcharge free. So what is a surcharge? It is a fee that the ATM owner may charge to use their ATM machines to conduct withdrawals. Please be aware that some members may be charged to use ATM machines other than Tropical's. Please refer to the ATM fees outlined in the schedule of fees.
Tropical Financial Credit Union members have a wide variety of ways to access their Accounts. Please follow the directions below to find the most convenient ATM or CU Shared Branch location near you.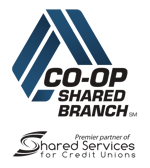 For fast and easy shared branch searches, download the CO-OP Shared Branch App: