Compare Florida Personal Loan Rates as low as
We recommend this option when you need to borrow money for a one-time expense. You enjoy a one-time lump sum with a fixed rate and consistent monthly payments.
We recommend this option if you are looking to have money for unexpected expenses or for overdraft protection. It works like a credit card so you can borrow money when you need it most.
We recommend this option if you are looking for a way to help you build your credit while continuing to earn interest on the money in your savings account held as collateral.
What are the best ways to use a personal loan?
We have found the most popular uses for personal loans include the following life stage events: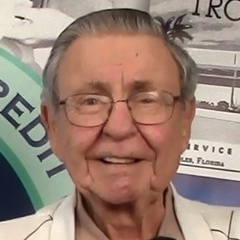 "My first deal with the credit union was in Coral Gables when there was only one desk and I've been there ever since. They have been good to me, they've been there when I need 'em and I swear by Tropical Financial Credit Union."
How does the personal loan process work?
Getting a personal loan shouldn't feel overwhelming. We make it simple to get the money you need to do the things you want.
Here's what you can expect:
Is a personal loan or line of credit the better choice for you? We can guide you through the pros and cons of each to help you decide which option is best for you.
Once you decide which option is right for you, the next step is to apply. And to help you along your journey, we have made the application process so easy.
Our trusted Personal Loan Advisors will continue to guide you through the process so you don't have to worry about a thing. They'll be with you every step of the way.
Getting a personal loan has never felt so easy. Just imagine how good you will feel when you get the money you need to do the things you want at a low interest rate.
Get answers to common personal loan questions
I applied for a loan online, how can I check the status?
You can check the status by contacting the Call Center and speaking with a loan representative.

Call us at 305-261-8328 in Miami-Dade or 1-888-261-8328 from all other areas to get more information.
What are my options to pay my TFCU loan?
Loan payment options:

Transfer from another TFCU account that you are an owner of In Online Banking go to ADDITIONAL SERVICES and register to make a payment

Direct a portion of your payroll/direct deposit to the loan - speak to your HR/payroll department

Visit a Shared Branch facility https://www.tropicalfcu.com/about/locations-search.php

Call our Call Center with a credit card ( a service fee will be applied) 888-261-8328

Complete an origination form and the funds will be taken automatically from your institution - complete and fax back to ATTN: ACH/Payroll 954-499-6793

Mail to:

Tropical FCU
ATTN: Operations
PO BOX 829517
Pembroke Pines FL 33082-9917
I'm making my last consumer loan payment. How do I obtain a payoff?
The payoff amount is on HomeBranch, our automated system (305-266-9697 or 800-835-2692 ) Details of loans including payoff can be found on Online Banking under LOAN then see account details.


Do you offer consolidation loans?
We now offer P-LOC loans which can be used for balance transfers, overdraft protection, credit card consolidation, or whatever you may need!

Home Equity Loans can also be used for a number of reasons, including debt consolidation.
Can I pay my loan payment from another financial institution?
Loan payments can be made through a payment center through Online Banking then select Payment Manager then Tropical's Auto Loan Payments. There is a fee to pay your auto loan through this link.

You will need to enroll in online banking before you can use the payment center.

Payments can also be directed to your loan from your Direct Deposit. Contact your Company's Payroll Administrator for more information.

Another option is, an automatic debit, please call us for the authorization form.
* APR = Annual Percentage Rate. Eligibility for the lowest advertised rate is based on creditworthiness, ability to repay, credit score and terms. Other rates and terms may apply and your actual rate, term and payment may vary depending on your credit history, loan amount and other factors. Current TFCU accounts must be in good-standing, not have any type of restrictions, and TFCU loans paid-to-date. Member must reside in a state within TFCU lending area.
Unsecured Personal Loan: Individuals who meet the lending and account criteria may qualify for rates as low as 8.50% APR for Premium Checking members.
Personal Line of Credit: Rate cannot be combined with any other offer or loan discount.
Personal Line-of-Credit (P-LOC) rates will vary based on creditworthiness.
As of 12/20/2018 the standard APR could range from Prime + 7.00% (currently 12.50%) to Prime + 14.00% (currently 17.90%). The variable APR may increase or decrease based on the highest Prime Rate published in the Money Rates column of the Wall Street Journal.
Share Secured Line of Credit requires a qualifying savings account as collateral.
Rates and terms are subject to change without notice. Membership eligibility required with $5 minimum in savings. Example: $5,000 loan at 8.50% APR with 60 monthly payments of approximately $102.62