Shopping! One of my favorite things to do...but car shopping, one of my least favorite things to do! There is so much involved with car shopping and so much that I don't know or understand. For starters, what do I need to bring with me? What should I know before starting the process? And what do I need to know once I am behind the wheel?
Time to prepare!
Before you leave the house or before you talk to a Tropical Financial Auto Advisor, it's important that you have an idea of what you are looking for as well as the price point you want to be in. The last thing you want is to go to a dealership and lose track of your budget and drive away in a car that's more than you can afford.
Be sure that you have a valid driver's license, know your social security number, and that you bring along your auto insurance information.
Oh and a good trick is to bring a copy of your driver's license, this way you won't get trapped when they ask for your driver's licenses and try to keep you there longer than you want to be.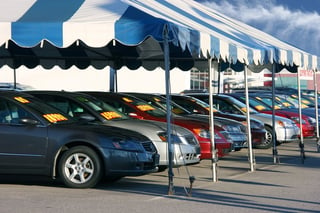 On the lot!
This is where things can get tough, but don't let it! Make sure that you remember you are in charge. Ask questions, and get the answers you need. Don't tell them the price you want to pay or how much of a monthly payment you want and avoid talking about a trade-in if that is indeed an option.
Also, make sure you test drive the car. While it might be the car of your dreams, you might get into it and dislike the way it drives. Ask the salesman to show you the ins and outs of the car and all the great features that it offers you.
At the table!
You've made the decision to get that new car you just test drove. You are ecstatic and you love it! Now it's time to negotiate the price, and sign away. OR, you can come talk to a Tropical Financial Auto Advisor and allow them to do that part for you… Hmm.
But what is needed when you sit down with the salesperson? Simple. You're going to need a valid driver's license, proof of insurance, and it's always safe to bring your two most recent pay stubs, proof of residency, and a list of references.
Some of these documents might not be used, but it will help in case there is an issue with your credit report. Plus, it's always better to have these items on hand and not need them, then it is to need them and wish you had them!
For more tips and best practices when purchasing your next car, make sure to read TFCU's Drive Happy Guide.