How to Remove Credit Report Inaccuracies
Our credit reports share a lot of important about us. The lower the credit score the more at risk you are for not being able to get the loan you need, or scoring that cool new job or even getting the apartment rental that you are desperate for. It's important to be aware of your credit score and to know what is showing on your credit report.
Last week, I spoke about how boosting your credit score by removing inaccurate information that may be on your credit report is a great place to start.
Wait… my credit report can be inaccurate?
The first time I pulled my credit report, I figured it was going to be a waste of time. I figured since I hadn't opened any credit cards or loans, there would be nothing there. Well, I was shocked to see there were two items, hurting my credit score… the credit score I never knew I had.
According to my credit report, when I was 2 years old, I had a credit card that I defaulted on. Yup, 2 years old, really? You all know about my shopping habits but they don't go as far back as 2 years old. But there it was, a mistake looming on my credit report. As I continued to read the report, I saw another credit card from when I was 10 year's old (really?) that I also defaulted on.
But how? How can I have two credit cards before the age of 18, two credit cards that I didn't apply for, or new nothing about?
It happens!
It happens, mistakes happen. That's why it is so important to review your credit report yearly to see what mistakes might be there and what inaccuracies you can remove. Cleaning up your credit report is possible and doesn't require tons of money… actually, it doesn't require any money.
Because of the Fair Credit Reporting Act, cleaning up your credit report is super easy to do and takes only a few seconds of your time. Trust me, I know, I had to do it on my own credit report.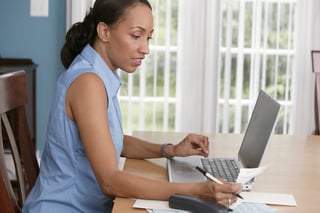 Step one – Obtain your credit reports
The first thing you need to do is get a copy of your credit report. You can do so by contacting each of the
three major credit bureaus; Experian, Equifax and TransUnion. Don't be alarmed if the information varies on each report that can happen because all of your creditors don't necessarily report to each bureau.
Here is the contact information for the three bureaus as well as the information for Annual Credit Report, which is also another great resource to receive your credit report for free.
Annual Credit Report Request Service
877-322-8228
Experian
P.O. Box 2104
Allen, TX 75013-2104
888-397-3742
TransUnion
P.O. Box 390
Springfield, PA 19064-0390
800-916-8800
Equifax
P.O. Box 105783
Atlanta, GA 30348
800-685-1111
Step two – Know what can be removed
Now is the time to really review your credit report, look for credit cards that might not be yours, or loans that maybe don't have all the right information. Keep in mind, you can't get rid of all the negatives notes on your file. If you missed a few payments, or indeed defaulted on a credit card then take responsibility for that.
But, you do have the ability to remove anything with inaccurate information such as accounts you never opened, any judgment for lawsuits that you were not a part of, any personal information that is incorrect as well as other people's names that might appear on your report.
Step three – Dispute inaccuracies
If you've spotted errors on your credit report, you can file a dispute with the bureau. You may do so by calling the bureau, using the website or even sending them information via mail. When I disputed my inaccuracies, I used AnnualCreditReport.com and I was able to do it right there on the web. If you have any documentation to verify the disputes it's important to include it when filing.
The process could take up to 30 days, which is why so many financial institutions suggest pulling your credit before applying for loans so you can take care of these things ahead of time. Once the dispute is filed, an investigation of the matter will take place. If the creditor cannot prove the reporting, the bureau will have to stop reporting on the matter and then an update will take place on your credit report.
Most times, the dispute process is simple and easy, but every now and then you might have something that requires a little more time to figure out. If the investigation results in no change, then talk to the creditors yourself and find out what is taking place. Sometimes it could be as simple as one digit is off with your social security number or there might be several people with the same name holding the same credit card and that can be an easy thing to mix up AND fix.
If you can't get any results by speaking with the creditors directly, then write a letter explaining the situation and add that letter to your credit report. This way future lenders and employers will see what took place and see your side of things.
There is no reason to live with inaccurate information on your credit report, take the time to make any necessary corrections and help boost your credit score in the process.