No matter what age your children might be, a new school year brings a new style, and sometimes that style carries over in to their bedrooms or study areas. One year having pink walls might be cute but the next year it might be all about blue. The styles are changing and kids want to keep up with them.
I remember always wanting to change the design of my bedroom. I wanted to change the colors, the layout and even the photos on the wall. I still do! I couldn't wait to go to college and have the ability to change out my dorm room each semester and to know that my options were limitless. Then, it hit me… each time I changed my room, it was costing me more and more money! Money that wasn't in my budget.
So I had to get creative.
There are awesome ways to change up a space while keeping within a small budget. Welcome to Home Design on a Dime! For instance, if this school year it's all about photos and having tons of frames, why not string a clothesline from one end of the way to the other and use close pins to hang photos. It's fun, easy to change and won't create a lot of holes in the wall.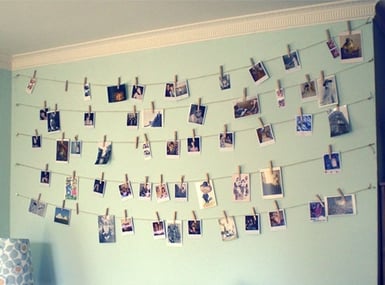 Another great design that can easily be changed and won't break the budget is using washi tape on corkboards, vases, walls and really anywhere that you can stick something. You simply find the colors you like, and create a design that fits your personality. You can create stripes on the walls, dress up a vase, change a the look of a simple mason jar that can then be turned into a jar for colored pencils or make up brushes. The options are endless! And when you're done, simply remove and you're ready for the next design or the next best thing.
Another great option for organizing and creating a fun feel is to recycle old cans. Wrap them in wrapping paper or scrapbook paper and use them for pencils, pens, markers, glue sticks, scissors, etc. Not only are they inexpensive to create, you can change the wrapping anytime and it will give children a fun way to organize their school supplies for homework time at home.
Another great way to dress up a room without costing a lot is cookie sheets. That's right find a local bargain on a cookie sheet, it can be used and ugly because you are going to make is beautiful.
All you have to do is spray paint the pan, glue in some scrapbook paper and get magnets. Simple glue
those magnets onto any designs you want; paper flowers, hearts, paper footballs, and soccer balls. Anything that strikes your children's interest and you've just create a board for reminders, a place for school assignments, or a place for them to show off good grades or awards. And the best part is, you can change the design as often as you like.
There are tons of ways to stick with your children's style every year and not have to worry about breaking the bank.