Halloween brings out the kid in all of us. Who doesn't love the eerie night? Who doesn't love the pumpkin carving and turning your home into a spooky haunted house? Halloween is such a fun time of year and the best part is, you can have so much fun and keep within a small Halloween budget too!
Outside!
We live in sunny South Florida and can do so much to spook up our lawns and really play into Halloween without breaking our budget.
A front yard cemetery is an awesome way to add a thrill to your home for Halloween. You can use tombstones to scatter over your yard or use them as a walkway for kids to come collect their candy. There are a few ways to make great tombstones for your yard. First you can get shipping boxes and flatten them, use a sharpie to draw the shape and cut out the tombstones, paint them gray and write RIP. Next you will want to glue a wood or plastic yard stake to the tombstone and plant it in the ground. For those who might have a little more time or a bigger budget, you can use wood and shape it to your tombstone or even get Styrofoam and use it for Halloween night. It's simple, easy and fun for the kids.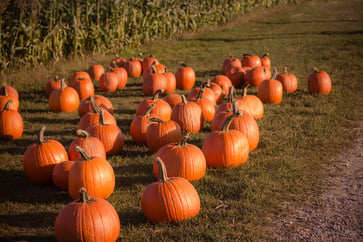 Another great idea for Halloween is to create haunted trees. You have trees in your yard, so let's get crafty. Depending upon the size of your tree. Make it look like a scarecrow. Use a pumpkin for the head, add cloth to make it look like an outfit and trim up the tree a little to make it look like arms. Or, you can use a white sheet and create ghost in your trees and maybe wire up some speakers and use some scary noise to frighten the kids as they wake up the cemetery pathway.
And who doesn't love spiders when it comes to Halloween. I mean I hate spiders so they are a perfect fit for Halloween. Any oldie but goodie is to take plastic spiders add magnets and attach them to your front door. Make your kids think your door is infested with spiders. Or, make some giant spiders out of black trash bags. Fill one trash bag with newspaper or leaves to create the spider's body. Then fill 8 more trash bags to use as the legs. Use a glue gun to attached and even use Styrofoam cups to make the eyes. Another great idea that the kids will love to help with.
And let's not forget about the floating hands, yes I said floating hands! These are a great way to scare kids, friends and really anyone. Fill up plastic gloves with anything, paper, popcorn, or even Jell-O and tie the ends of the glove. Hang the hands around the house, put them in coolers and chip bowls and even places them in the candy bowl. The Jell-O ones are great since they feel like a real hand. Get creative and paint it to look bloody.
Have fun this Halloween; think about what resources you have in your house that you don't need to buy.