Thanksgiving is one of the most amazing holidays around. It's a time to really think about all the amazing gifts you have. A time to celebrate the love you share with your family and a time to be grateful for the life you have.

But with the grateful part of Thanksgiving comes the feast. Yes, Thanksgiving is a feast! And with the prices these days, you are probably spending a lot of your holiday budget on one meal. Yes those pumpkin pies add up.

Time to be get creative!

When it comes to preparing for Thanksgiving, it's time to find your inner couponer! That's right it's time to start cutting coupons. Find coupons for buy one get one. Or coupons that will give you any kind of saving, even if it's $.50. That loose change adds up. Look at store brands and not necessarily the large name brand items. Often times those "no name" brands are just as good with half the cost. There is no need to pay a higher cost especially when you will be paying a lot in groceries for this one day.

Keep it Simple.

You are going to see this saying in a lot of blogs for the holiday season. Keep your meal simple, enjoyable and fun. While you might love a big fancy meal, the cost of Thanksgiving Day items will usually be higher than average and might be harder to find. So instead of making your famous truffles for thanksgiving, why not wait until the ingredients are on sale… at a later date. Stick to the basics the homely food that is delicious, easy and enjoyable.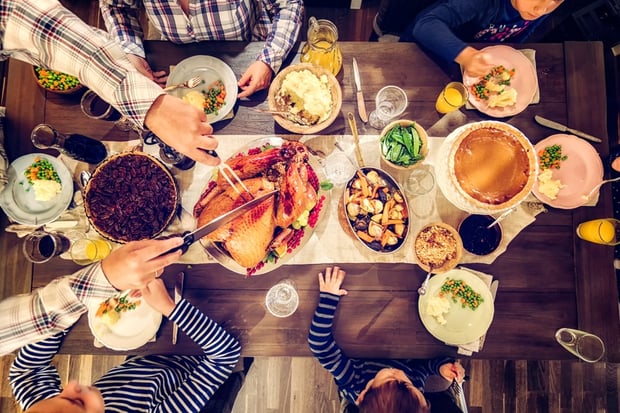 Mashed potatoes
Sweet potatoes
Green Beans
Stuffing
Cranberry Sauce
Gravy
Pumpkin Pie
Gobble Gooble!
A turkey is the one item you can't really wait until later on or coupon for. Since a turkey is the "main dish" with Thanksgiving you are stuck shopping for a Turkey. And if you are like my family, with 20+ people at the table the cost of the Turkey can really add up!
However, there are some ways to avoid paying the high cost of a turkey. Rewards cards. If your supermarket offers a rewards card sign up for it. Often times you will get discounts, coupons and heck they might even throw in a free turkey, if you shop there a lot.
Be aware of your favorite stores and read the sales papers too! Often times you might overlook a sale paper and they might be offering a discount or even a free turkey.
Another great way to get a free or even discounted Turkey is to talk with your family. If you have a family member who works for the city, they are often given vouchers for a Turkey. If they plan on coming to your home for dinner, ask them for the Turkey voucher!
Thanksgiving Day doesn't have to cost you a fortune and if you'd like to make it even more cost effective, make it a pot luck thanksgiving. Ask each of your guest to bring one side dish and you supply the turkey! It's a great way to try other people's favorite Thanksgiving dishes and it will help you keep the cost low.
While preparing for your Thanksgiving Day meal keep some of these tips in the back of your mind. Not only will they allow you to have a beautiful day but they will also help keep the cost down too.
There is always something to be grateful for. Have a beautiful Thanksgiving.