Summertime was by far my favorite time when I was growing up and in college. I loved having time off of school and having no responsibility. The only problem was, my checking account drained pretty quickly during those summer months. At first I couldn't figure out why but then I figured it out. During the school year I had a meal plan, and did lots of free activities on campus. During the summertime, I had no meal plan and everything cost money. There were no free BBQ's, no free sporting events, and since school was out my part-time campus job also ended.
If I knew then what I know now!
There are actually a lot of things that you can do living in South Florida that won't cost you much but still allow you to have a fun time whether it's during the summer, fall, winter or spring. Wait, what am I talking about, we live in Florida, its summer year-round! Here's how to have a cheap summer in the good way.
Eat Cheap!

Eating out is one of the most expensive outings in South Florida. We have some great restaurants but the price of dinner adds up … and quickly too. There are ways to cut the cost without cutting the quality of your meals. You can always check out happy hours. Often times they have great specials on food (not just drinks) and if you order an assortment of appetizers you can have a meal for cheap! It's nice because often times the same appetizers that are $10 are $5 during happy hour.
Look for local deals. Many restaurants have specials during the weeknights. Like Bonefish Grill, Tijuana Flats, and even Ale house's. So be sure to ask your favorite restaurants about week night special and be sure to sign up for e-mails from your favorite places. I get e-mails on a regular basis with discounts and coupons for restaurants such as Outback and California Pizza Kitchen and who doesn't love a free appetizer! Plus, like them on social media too, you never know what deal might pop up in your news feed.
Call around town! If you're craving something particular, take the time to call restaurants and see what specials they have. Often times you might find specials on steaks and burgers at places you would least expect!
Oh and don't forget to check out Groupon and Living Social for restaurant deals! T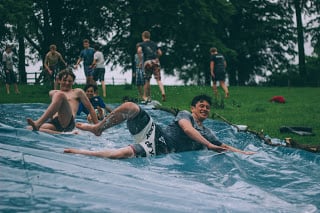 hey have amazing deals for cheap eats that are good!!
Fun on the town!
We have free beaches! Do I need to say that again? I was on a girls weekend to New Jersey once and it cost money to step foot on the beach. What is that? We have FREE Beaches! Pile into the car and take a drive, enjoy a beautiful day on the beach. Bring a cooler with food and drinks and maybe a football to toss around. Find volleyball courts and get a game started or take the time to build a sandcastle. Whatever makes you happy, do it on the beach! Maybe even start a water balloon fight. Hmm I think I need to make this one happen.
Everyone loves a good movie, so if you have a free afternoon, go check out the latest movie release. You'll save a lot too! An afternoon movie could cost you about $9 while an evening movie will be about $12. Hey every dollar counts! Plus who doesn't love sitting in a dark theater on a raining day or any day really!
Create your own fun!
Everyone loves a funny story, an embarrassing memory and even a crazy time so why not create it yourself! Have a pool party at a friend's house, or host a pot luck night or even plan a themed dinner! The catch is to have all of your friends contribute. Themed parties could be something fun. You could do Indian night and have everyone cook at your house and make a dish there or bring an already made dish. Who doesn't like try new foods? Pot lucks area always fun too, because you can hang out relax and eat. And who doesn't love a day of fun in the pool? Play some pool volleyball, some Marco Polo and blast some music!
There are fun things happening all around us, we do live in Florida! Have fun this summer and we encourage you to share your stories of fun things you and your family like to do that don't make you go broke!
Enjoy!!
-Alysha