When getting ready to buy a car it's not uncommon for people to explore both new and pre-owned options. Especially now, according to a recent CarandDriver article used car sales are making a comeback as people are more cautious than ever when it comes to financials and spending.
However, there's still a need for vehicles despite the current environment. Even in a pandemic accidents still happen, essential workers are still needed, and grocery runs need to be made. If you're looking to replace a vehicle in Florida a pre-owned option might be best right now, but before you do we teamed up with the experts at AutoAdvisors to bring you everything you need to know:
Tips for Buying Pre-Owned Cars
The first step is to understand the market value of the vehicle you want to purchase; using a tool like NADA can be helpful when trying to do. If you have been pre-approved from a credit union your second step will be shopping for a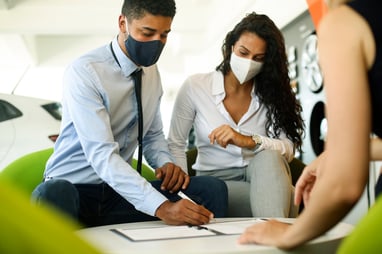 vehicle. Using a service such as AutoAdvisors can help when getting the best deal on a car as they often work to negotiate with dealers on your behalf or if you rather shop online using TFCU's car search is very helpful as well.
When buying pre-owned we highly recommend searching vehicles at, and buying from, a franchised dealer as they have customer satisfaction targets that they must meet. This ensures that your used vehicle has been safety-checked and in all around good condition as they don't want unhappy customers. You also have an established dealer to return to with any issues and the manufacturer's zone representative to contact should you require additional assistance. If you do not want to navigate this process by yourself, AutoAdvisors is always here to help members and can also help to not only ease this process, but also speed it up as well.
Benefits of Buying Pre-Owned in Florida
One benefit of a used car is the price and that's because someone else has taken the depreciation on the vehicle, so you are saving lots of money by not driving a new vehicle off the dealer's lot. When purchasing a used car you can purchase what is known as a Certified Pre-Owned (CPO) vehicle that means the vehicle has met rigorous safety and maintenance requirements that enable the dealer to offer a manufacturer's warranty. In many cases warranties expire anywhere from 3-5 years and up to 100,000 miles, however, for discerning buyers, a CPO vehicle can be a fantastic value.
Another benefit of buying pre-owned is that the credit union offers very competitive extended warranty options if it is not a CPO vehicle. These are also excellent values that protect your vehicle during your time of ownership and are less expensive than those offered at the dealer. Buying used also eliminates a bulk of extra fees, which include shipping costs, destination fees, marketing contribution fees, and some dealer prep charges. Also, a great thing to take into consideration insurance costs. Living in Florida insurance on vehicles can be very high as it is an accident-prone state. However, these costs are usually lower on used vehicles, which can help in the long run since insurance is paid both monthly and separately from an auto loan.
Things to Avoid Buying a Pre-Owned Vehicle
When buying a pre-owned vehicle we highly recommend avoiding buying from independent dealers and here's why: many are only in business for a short time and they do not operate under the same rigorous guidelines set by manufacturers for their franchised dealers. There are some notable exceptions with national brands such as CarMax and AutoNation stores, which also operate under strict standards. If you do choose to buy from an independent dealer, please go to the Better Business Bureau website or go to Yelp.com for reviews from previous buyers.
We also DO NOT recommend buying a vehicle without any factory warranty, unless you are purchasing an extended warranty. Vehicle repairs out of warranty protection can be very expensive and if cost savings are the reason for buying used, it's important to purchase something with a safety guarantee. We strongly encourage getting a CarFax or AutoCheck report BEFORE you purchase any used vehicle. These reports provide a registration, accident and service history, which is of critical importance. The more you know, the better your ownership experience will be. Finally, when in doubt about the used vehicle you are considering, take it to your local independent service center for a frame and engine check. According to our AutoAdvisors team these usually cost about $100 and is money well spent as it ensures the safety of your purchase.
There are many factors to consider when purchasing a pre-owned vehicle, but if cost savings is what you're going for this can be a great options especially now. If you are looking to purchase pre-owned let TFCU and AutoAdvisors help you out. Get pre-approved and let our teams shop for a reliable, inexpensive vehicle that you will be happy and content in.