Is your wife still riding around South Florida in the old mini-van? You know, the one that has the unidentified stains on the ceiling and the same one that's inching close to 200k miles. Maybe, it's time to start looking into getting her a new car. Check out our list of the best types of vehicle to buy your wife here in South Florida.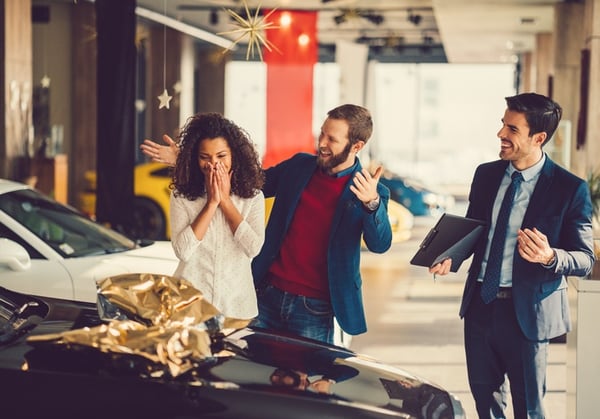 Crossover
Perfect for small families, trendy enough for young families. It may not provide as much visible room as the minivan, however these act as the IKEA of cars, and many crossovers provide compact storage in areas like the floor, seats and dashboard. They're also great if your wife balances work and parenting.
Models: Chevrolet Trax, Honda CR-V, Ford Escape, Kia Sportage, Subaru Crosstrek, Buick Encore
Sedan
If you're looking to cut costs on gas, insurance and registration fees, this option will most likely be best. It's easier to get into a sedan if the kids are older, as well. Having car seats may be a challenge, especially if there's more than one. The beauty of sedans, is that some models come in a hatchback version, like the Chevy Cruze and Ford Focus.
Models: Toyota Camry, Hyundai Sonata, Nissan Maxima, Chrysler 200, BMW 3 Series
SUV
Calling all large families! SUV's are great for very large families, most having that third row of seating and tons of space in the trunk. If you're the type of family who has more than two kids and seemed to adopt all your children's friends, your wife may appreciate all the extra space. While the space is a great feature, be aware that SUV's do tend to be gas guzzlers, so they aren't recommended for road trips.
Models: GMC Arcadia, Honda Pilot, Chevrolet Tahoe, Jeep Grand Cherokee, Cadillac Escalade
Luxury
Many luxury car companies have options available for families. They offer great safety features, when on the road and if your kids are ever bored most luxury vehicles come with TV screens to keep them occupied. Price can get a little up there, but most people know what they are getting into when purchasing luxury. However, just know you will 99.9% get what you are paying for.
Models: Acura RDX, Lexus RX, Lincoln MKZ, Mercedes-Benz EClass, Audi A3, Land Rover Discovery
Shopping for Cars in South Florida
Normally when shopping for a car in South Florida or anywhere for that matter people often start with what car they want to buy. We recommend starting by shopping for auto loans first and getting preapproved, so you know how much you have to work with ahead of time. Shopping for an auto loan first and car second can end up saving you thousands in the long run because dealers aren't stretching out the loan just to get you into a car. We also recommend working with AutoAdvisors, a free service that will shop for your next vehicle for you.