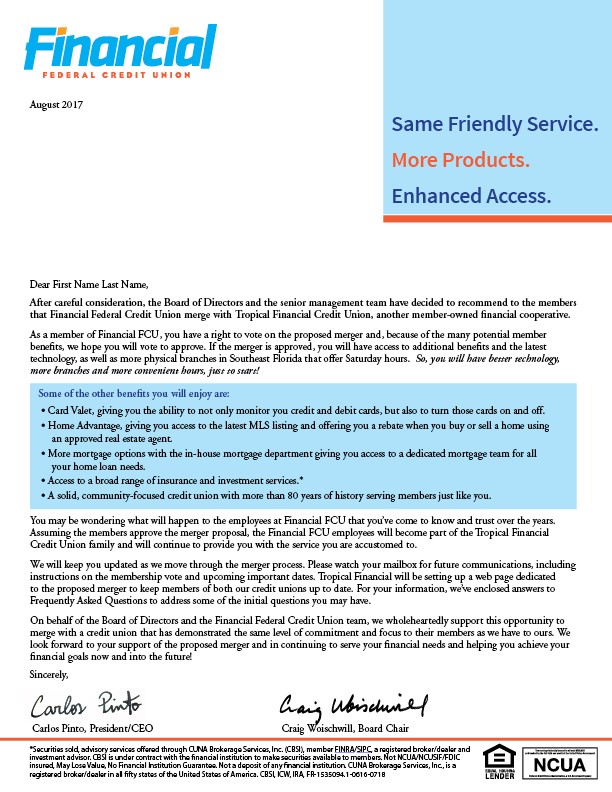 After the Merger:
Manage your Debit Transactions with CardValet
With the CardValet app, customize your Tropical Financial Debit Card to set usage preferences, control how and where your card is used, and even turn your card on and off.

Trusted Real Estate Services with HomeAdvantage®*
Use TFCU's HomeAdvantage program to search online listings and compare recent sales, demographic and other data. And when you use a HomeAdvantage real estate agent, they will help you negotiate price and you'll receive a rebate after you buy and/or sell a home.

Deposit checks from anywhere with TFCU's Mobile Deposits
Secure and simple mobile access with TFCU's app is available for iPhone, iPad and Android.

Investment and Insurance Services**
Let Tropical Financial Investment and Insurance Services located at TFCU help you plan for a secure retirement with a no cost or obligation financial planning assessment.

• IRAs and 401K
• College Planning
• Retirement Planning
• Estate Planning
• Member Folio Investing
• Wealth Transfer
• Life Insurance
• Disability Insurance


In the Community
TFCU is proud to give back to the community we serve through T-CAT, Tropical's Community Action Team. We coordinate and participate in charitable community events throughout the year. From donations and volunteering to offering student scholarships and recognizing local heroes, we are committed to the communities we serve.
FREQUENTLY ASKED QUESTIONS:

The boards of Financial Federal Credit Union and Tropical Financial Credit Union have entered into an agreement and plan of merger. The merger plan has received all necessary regulatory approvals, but the merger requires the approval of Financial Federal's members before it can take place. We did want to address a few of the most likely questions members of both institutions may ask.

What will be the name of the credit union when the merger is complete?
Tropical Financial Credit Union

When will the merger be complete?
The membership of FFCU will be asked to approve in mid-August and the anticipated effective date of the
merger is September 1, 2017. It will take a few months after that for all systems to be combined.

Will my account number change?
At this point it is too early to make a determination as to how account numbers will be affected, but those that will be affected will be notified well in advance of the change.

What will happen to the FFCU branches?
The intention is to maintain all current FFCU branches and ATMs. FFCU members will also have access to all 9 Tropical Financial branches with longer hours, including Saturdays, as well as 16 Tropical Financial ATMs. In addition, members will have access to the Coop network of 30,000 ATMs across the country.

What happens to the FFCU employees I'm used to working with?
FFCU employees will continue to serve members, they will
just become Tropical Financial employees.

What happens to my current loan?
Nothing will happen to the rate, term, or due date of any loan you have with FFCU. Once the merger is complete there will be a new name and new address where you will send your payment.

What happens to my current CD?
Nothing happens with your current rate or term of any CDs at FFCU.

Will anything happen if I'm a Tropical Financial Credit Union member?
Tropical members will not experience any changes.

Are my funds still insured?
Tropical Financial Credit Union is also insured by the NCUA and carries the same insurance for deposits.

What will happen with my checking account?
If you have a checking account with FFCU it will automatically be converted to a Tropical Financial checking account. We encourage you to check out the options at Tropical Financial Credit Union at Tropicalfcu.com.

What about my debit and credit cards?
Both your debit and credit cards will be changed from Visa to Mastercard. This will happen once the transition nears completion and those affected will be notified in advance.

What happens to the credit card rewards points that I've already earned?
Those points will roll over to your new Tropical FCU credit card.

Will I need to get new checks?
Yes you will, but they will not cost you anything.

Will I still have access to telephone, online and/or mobile banking?
Yes, but for telephone banking you will dial a new number and use different prompts. Fortunately both FFCU and TFCU use the same mobile and online banking systems, but you will need to reregister once the merger is complete.

Will new employees that were allowed to join FFCU be able to join Tropical Financial?
Tropical Financial is a community credit union, so anyone who lives or works in one of these 9 counties is eligible to join: Miami-Dade, Broward, Palm Beach, Martin, St Lucie, Hendry, Lee, Collier, and Sarasota. In addition any employee of a company currently with FFCU will be able to join and family members of any current member of either credit union are also eligible to join.

What about fees?
Once the merger is complete the Tropical Financial fee schedule will be the one used for members. The fee schedule can be found at the footer of every web page at tropicalfcu.com.

What happens to my ID theft protection?
Tropical Financial has similar programs but no determination has been made at this point as to the exact program you are receiving now.
Disclosure:
*The HomeAdvantage™ program is made available to you through a relationship between Tropical Financial Credit Union and CU Realty Services. Program rebates are awarded by CU Realty Services to buyers and sellers who select and use a real estate agent in the HomeAdvantage network of approved agents. Home buyers or sellers are not eligible for the rebate if they use an agent outside this network. Using your credit union for a mortgage is not a requirement to earn a rebate. Rebate amounts are dependent on the commissions paid to the agent. Your credit union may have specific rules on how your rebate will be paid out. Rebate incentives are available in most states; however, are void where prohibited by law or by the lender. Please consult with your credit union to get details that may affect you.

**Representatives are registered, securities are sold, and investment advisory services offered through CUNA Brokerage Services, Inc. (CBSI), member FINRA/SIPC, a registered broker/dealer and investment advisor, 2000 Heritage Way, Waverly, Iowa 50677, toll-free (866) 512-6109. Nondeposit investment and insurance products are not federally insured, involve investment risk, may lose value and are not obligations of or guaranteed by the financial institution. CBSI is under contract with the financial institution, through the financial services program, to make securities available to members. FR051208-1A7C.