Happy New Year! The New Year is here and that means time to get back on track with your finances! If you are anything like me, you spent way more than you budgeted for this holiday season… way more. But that's okay because that is part of the joy around the holidays. It's about holiday parties, get-togethers and the occasional gift too.
While we try to stay on budget and we try to be aware of our spending, sometimes it becomes a challenge because the sales are too good and then you see must-have items and before you know it, your credit card bill is a little out of control! You think to yourself, "Why did I get this carried away!" But then you see the joy of your loved ones opening the gifts and you remember why.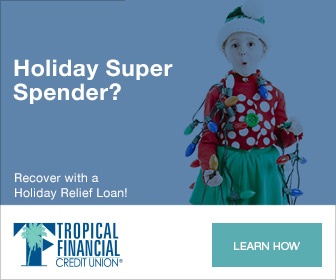 We hope that the 2016 holiday season was truly one to remember and that you didn't stress too much over your finances but rather enjoyed the looks on your children's face, the excitement in your family's eyes and the thrill of spending time together. Like the saying goes, "where there's a will, there's a way!" And we are that way for you!
We are happy to once again announce our Holiday Relief Loan! Yes, we are providing relief from your holiday fun/debt. With our Holiday Relief Loan you are able to consolidate all your debt into one bill, one interest rate and one payment! Yippie!
Our Holiday Relief Loan gives you three loan options to choose from with monthly payments that will making paying off this loan easy to do. We set up a payment schedules and a minimum payment amount so you can worry less and focus on other things, like spending time with your family and putting those new gifts to use.
Well, what are you waiting for? You better get applying for that Holiday Relief Loan! The offer expires February 28, 2017 and trust me you don't want to miss this kind of relief!